Growing Up in Hungary seeks to depict a few features of the everyday life of cohort babies and their mothers. Our questions, in the second wave of the research, asked about the most basic points in the life of families caring for six-months-old babies: their care, calming, and sleeping habits.
This primarily study was conducted on data from 1544 people. 6 of 10 six-months-old babies use pacifiers, the frequency is the same among boys and girls. The majority of mothers, 87% said that they bathed their child every day, 2% several times a day, and 11% every other day only. Less frequent bathing was under 1%.
3 of 10 six-months-old babies sleep through the night every day. However, almost one half of the babies do not sleep through even one night at this age, 12% sleep through 1-2 nights a week, and 10% through 3-6 nights a week.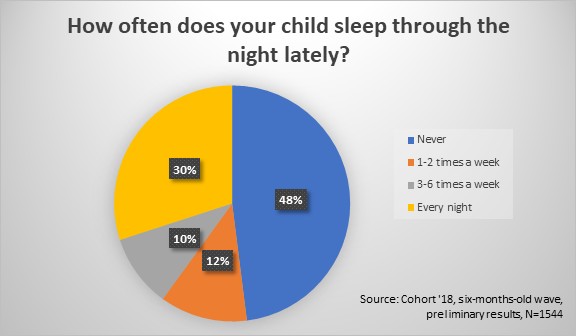 Six-months-old babies sleep for an average of 3.5 hours during the day, and 9 hours at night. The average sleep of mothers is 7 hours at night, awakening at about 3 times during this period. The greater part (57%) of the children never sleep in the bed of the parents, but every fourth child spends at least part of the night in the bed of the parents.
During data collection, we also asked about how fast the mothers usually reacted to the cry of their babies. A little over half (52%) of the respondents said that they picked up their children right away when crying, the other half (48%) said that they let their babies cry for a while, and only picked them up if they did not calm down. Less than half percent of the respondent said that they did not react directly to the cry of their children.
Only 5% of the six-months-old children experienced being away from their mothers for at least two days, and spending the night elsewhere too. The reasons greatly varied, most cases involved hospitalization, but there were work-related or leisure trips as well.